Carbon Neutral Company
Since 2019 we are recognized by Green Development as a Carbon Neutral Company for our manufacturing process by reducing and compensating all our emissions for our 2018 manufacturing process, and we are committed to keep reducing and compensating our carbon footprint in the years to come.

ISO 14001 Certified Company
We are focused on protecting our environment and reducing our environmental impact, working under a culture of sustainability with environmentally friendly methods, materials, processes and practices.
Sustainable Processes
Propane gas as fuel for our forlifts.
More natural illumination in our facilites.
LED lighting in our facilities.
Recycling and reuse.
Wastewater treatment plants.
Recovery and recycling of refrigerants.
Software for measuring our footprint.
Less use of stationary diesel.
Environmentally Friendly Features
CFC-free products.
Poliurethane insulation with cyclopentan as the blowing agent.
More energy efficient products.
Energy saving electronic controls.
LED illumination.
Energy efficient electronic motors.
Solar-powered refrigeration system.
Low-E technology on glass panes.
Wire & Tube condensers.
Natural refrigerants with negligible GWP.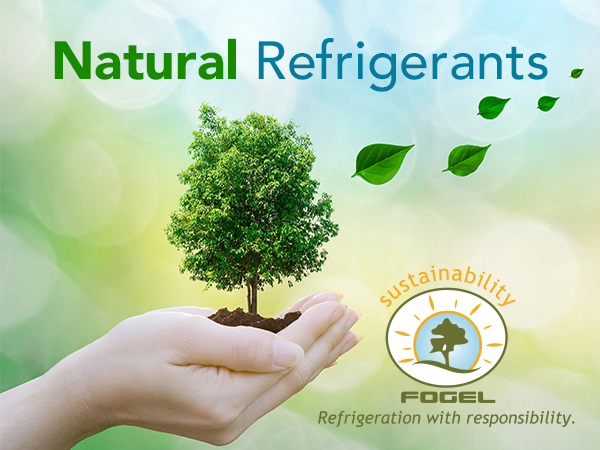 Natural Refrigerants
Currently 200+ Fogel models have been transitioned to natural refrigerants (R 290 and R600a) with several models already listed with safety certifications for the countries where they are commercialized. Overall, 98% of our current product portfolio of commercial refrigerators use natural refrigerants, and our goal is to have 100% of our production using hydrocarbon refrigerant in the near future.
As part of our commitment to transition to natural refrigerants Fogel has invested more than US$ 5MM to increase its manufacturing capacity, including machinery and components to manufacture commercial refrigerators using hydrocarbon in all assembly lines at the Fogel factory in Guatemala.
Utilization of Renewable Energy
Sustainability and caring for the environment are strong commitments that we have built into the core of our business. We've achieved many environmental goals throughout the past decades and are ready to take the next steps in our path to sustainability by transitioning to the utilization of renewable energy in our production process.
We have selected Enertiva, a leading solar power developer for Central America and Mexico, to install a solar plant for our manufacturing facilities in Mixco, Guatemala, with 1,372 solar panels and a global installed power of 775 kilowatts, generating 1,170,000 kilowatts of energy per year. Construction will take place in the second half of the year and is expected to be completed by late 2022.
With this project we will further reduce our carbon footprint, avoiding the emission of +460 tons of CO2 per year to the environment.